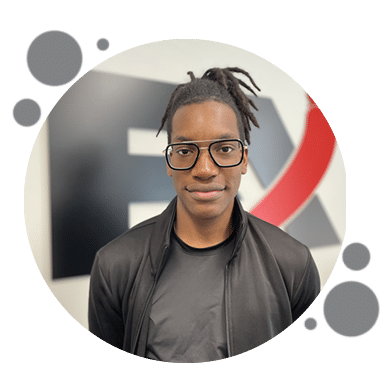 Taylor Charles, Personal Trainer
Taylor Charles was born and raised in Augusta, Georgia. He graduated from Georgia Southern University with a bachelor's degree in Exercise Science - Kinesiology. He has always had an affinity for health, wellness, and exercise. Being a part of the FX family has given him an opportunity to make a positive impact in the community while pursuing his passion. He hopes that when all is said and done, the patients of FX will discover that movement is medicine.
Corrective exercise is a technique that uses the science behind how the body moves in order to address movement compensations as well as imbalances throughout the body. By determining the "root cause" of why your joints hurt, our CES certified Personal Trainer will develop individualized programs to meet your specific needs. At FX, we implement proper movements of exercise to reduce pain and stress, strengthen muscles, increase joint stability and improve posture.
What is Functional Movement Screening?
FMS is a screening tool used to evaluate seven fundamental movement patterns in individuals with no current pain complaint or musculoskeletal injury. The FMS is not intended to diagnose orthopedic problems but rather to demonstrate opportunities for improved movement in individuals.
What is Selective Functional Movement Assessment (SFMA)?
SFMA helps to expose possible asymmetries and pathological movement patterns, as the root cause of a painful problem. At FX Spine & Performance Center the SFMA enables Dr. DeAngelo to identify and treat regions in the body that lack mobility (range of motion), or stability (motor control), allowing for an accurate treatment to restore pain-free function and movement.
Corrective Exercise Membership Plans
3 Month Membership
$180/month
(4) Corrective Exercise sessions per month
(1) Kinetisense session per month
(1) Neuromuscular session
6 Month Membership
$170/month
(4) Corrective Exercise sessions per month
(1) Kinetisense session per month
(1) Neuromuscular session
12 Month Membership
$160/month
(4) Corrective Exercise sessions per month
(1) Kinetisense session per month
(1) Neuromuscular session
Corrective Exercise Packages
Mobility & Stability Eval
$25
(1) Mobility & Stability Evaluation
(1) Kinetisense session (KAMS)
Corrective Exercise education
Corrective Exercise 10-Pack
$475
(10) Corrective Exercise sessions
(2) Kinetisense sessions
(1) Neuromuscular session
Corrective Exercise 20-Pack
$900
(20) Corrective Exercise sessions
(3) Kinetisense sessions
(1) Neuromuscular session
Exercise Library Examples