Nicholas DeAngelo DO, Founder & President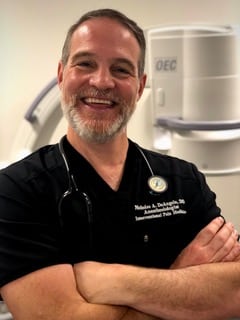 Nicholas A. DeAngelo, DO
Founder & President
Diplomat: American Board of Anesthesiology
Diplomat: American Board of Anesthesiology-Pain Medicine
Diplomat: American Board of Pain Medicine
Certified in FMS and SFMA
Nicholas A. DeAngelo, D.O. is a Board-Certified Anesthesiologist by the American Board of Anesthesiology and a Board-Certified Interventional Pain Physician by the American Board of Anesthesiology as well as the American Board of Pain Medicine.
He graduated from Philadelphia College of Osteopathic Medicine in 1994, followed by a residency in Anesthesiology and a fellowship in Interventional Pain Medicine at Penn State Milton S. Hershey Medical Center. Following his training, Dr. DeAngelo has been a leader in academic and private practice organizations. He was director of the department of orthopedic anesthesia at Penn State M.S. Hershey Medical Center as well as medical director of "The Spine Specialists", a comprehensive spine and pain center in Lebanon, Pennsylvania. While at Penn State, he was an assistant professor providing anesthesia and pain management services as well as teaching residents, fellows and medical students. He has produced multiple publications in the field of anesthesia and pain medicine. While in private practice, he was instrumental in building up free-standing medical practices and restructuring a hospital based interventional pain practice into a free-standing office-based practice. While medical director of the interventional pain practice and partner of the anesthesia practice in Lebanon, PA he was instrumental in the sale of the medical practice to a private equity company out of Nashville, Tennessee.
Dr. DeAngelo's focus is to improve patient's pain; but more importantly, their long-term function using multimodal therapies including aquatic, physical, behavioral, and interventional therapy. He understands the importance of weight reduction and proper biomechanics in the long-term treatment of chronic pain. Through traditional medical evaluations and functional movement screenings (FMS), he will be able to better identify the pathological etiologies as well as the biomechanics that perpetuate chronic pain and inhibit functional improvement. Following a comprehensive evaluation, he will develop a structured treatment plan of traditional medical, interventional and professional physical therapy followed by a structured long term aqua and land exercise program in order to improve the patient's neuromuscular coordination, strength and conditioning.
The vision of FX Spine & Performance Center is to be the preferred comprehensive center in the community providing conservative, medical, and innovative treatments in order to improve the function, health, and quality of life for all individuals. We fulfill our mission by:
Clear treatment pathways
Offering a comprehensive array of conservative, medical, psychological and interventional therapies to treat pain and performance barriers.
Self-assessment tools using video recordings for visual feedback.
Tracking goals using technology and routine functional screens.
Educating our patients so that they can make informed decisions.
Nicholas DeAngelo DO, Founder & President