A new approach to help improve functional mobility is now available at FX Spine & Performance Center: Kinetisense. This technology uses markerless motion capture software with a proprietary interface that permits
Nicholas DeAngelo, DO
to objectively understand patients' movements with a 3D motion capture system.
It's easy to take functional mobility for granted when they complete day-to-day tasks. We trust that our body will react the way we expect it to when we need it. But what happens when functional movement is impaired by injury or age? That's where a functional movement screen with Kinetisense comes in.
The KAM's functional movement screen, the Kinetisense 3D motion capture system with video-based biofeedback, is used by the NBA, MLB, the U.S. Olympic team, and a number of corporate and collegiate partners. The KAMS system is a cutting-edge tool that can quantify how patients move, give Dr. DeAngelo a baseline for future assessments and create accurate reports that give a real-time, objective assessment of how training and therapy are improving your condition.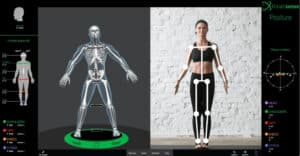 Kinetisense is new approach to movement science that offers a holistic approach to body motion analysis in order to provide the most objective, comprehensive look at ways to improve functional mobility patterns of any patient. Trend data is assembled into charts and graphs and combined with our automatic reporting to help patients and athletes reach their desired outcomes.
If you're interested in learning more about how this cutting-edge markerless motion capture technology can assist you in improving pain and biomechanics, please call FX Spine & Performance Center to schedule a consultation: (706) 842-6800
Check back each month for education blog posts and updates on what's new at FX Spine & Performance Center! To be one of the first people to read these updates and articles, please sign up to recieve our monthly newsletter (scroll to the bottom of the linked page for the sign up form.)
Source: https://www.kinetisense.com/